They're doing London-style tendering (which has broadly worked for service, if not for workers) rather than English regions-style dereg, no?

— John Band (@johnb78) September 10, 2017
So there was a discussion on twitter about the disaster that was UK regional bus deregulation. And yes, it was a disaster. A friend of mine from the North of England used to have (and probably still does; I've just not heard it in a while) a lengthy and well-rehearsed rant about the catastrophic effects of bus deregulation on Northern cities. By the time he had fully warmed to his theme you got the distinct impression that bus deregulation in the North of England was like AIDS, the Holocaust and Climate Change all rolled into one.
In stark contrast to this buspocalypse, the twitter discussion held aloft the London model (a model apparently outlawed outside London — something I wasn't aware of, but I can't say surprises me) which retains a central authority (Transport for London) effectively managing and setting parameters for all bus routes; ensuring smooth integration with other routes and other modes of transport; but then offers those routes for private tender.
And it works. From the point of view of the customer (who is always right, after all) London's bus system is pretty excellent. Keeping a city the size of London moving is a bastid difficult task, and London buses contribute massively to achieving it. That's undeniable even for an unreconstituted socialist like me.
I believe public transport, like a lot of other things, should be publicly owned and operated. That's my starting position, ideologically-speaking. The reason I've never been part of any socialist organisation however, is because I prize flexibility above ideological purity (I get more of my philosophy from Gregory Bateson than I do from Marx). See, if there's a social problem to be solved (let's say we're setting up a new transport system in a new city) and there are multiple potential solutions, I will naturally gravitate to one involving collective ownership and operation. State ownership is not a dirty concept to me. In fact it's generally preferable to corporate ownership in my book.
However, in situations where you have an existing public transport system that incorporates private companies and is clearly working, then you have to be some kind of maniac to recommend poking it with a stick for ideological reasons. If the London bus system starts failing the city, then I will be on the side recommending more public involvement while others will insist that privatisation didn't go far enough. But so long as it's working then clearly the right balance is being struck. So we should all leave it the hell alone.
I'm not saying that even "above average" systems can't be improved upon, nor that we shouldn't try; but there's also a truth in the old "if it ain't broke, don't fix it" maxim. Which brings me, finally, onto Dublin…
Dublin Bus ain't broke
Dublin Bus is a state-owned company and it runs all of Dublin's bus routes, with a few minor exceptions — airport hoppers and a handful of suburban / semi-rural services right on the outskirts of the metropolitan area. Some Dubliners like to complain about Dublin Bus, but having experienced a lot of cities and their buses, Dublin Bus is firmly in the "above average" category. No it's not perfect. But it covers a wide area, frequently and generally reliably*. So already we're ahead of the game.
But not only does it get the basics right, it has a bunch of bells and whistles. The various real-time information apps and text message services — as well as at-stop displays — are, again, above average. In fact they're pretty damn good. The Leap card (Dublin's equivalent of London's 'Oyster' — working across bus, Luas and rail) had a shaky start but is now running seamlessly and damn near everyone uses it. You can top it up in almost every newsagents or supermarket in the city, as well as at train stations, Luas stops, online or using the mobile app on any phone with NFC. It literally can't be made any more convenient until they develop top-up by telepathy.
The buses all have decent free on-board wifi.
So it seems to me — and I've yet to hear a convincing counter-argument — that introducing deregulation (albeit of the London-style) makes no sense whatsoever in Dublin. Government policy has seen 24 suburban routes put up for tender and I just don't understand why.
In this instance, a "convincing" argument would involve demonstrating precisely what about Dublin Bus is requiring a major shift in operating practices. Then providing details of how much better the system will be from a passenger standpoint after partial privatisation; along with solid evidence that the risks of damaging an essential public service are either near-zero or else demonstrably worth whatever improvements will be experienced by passengers. How much money will the change save both passengers and the state? Will the staff of the new companies be as well-trained and well-treated as those of Dublin Bus? If not, why not? Where will the state be spending the money saved by this process?
Because if this change does not significantly improve the system, or keep it at least as high quality for significantly less money… then it looks suspiciously like we're poking our public transport infrastructure with a stick for ideological reasons.
But it's the cost!!!
Those familiar with the Dublin Bus situation may be fuming by now… not by what I've said, but what I've failed to say. Dublin Bus loses money. And it's got a powerful union which has been willing to take industrial action (it's only a few months since the last Dublin Bus strike caused chaos in the city). Plus the fares aren't exactly cheap. In fact they're among the highest in Europe. Even with the Leap card discount, Dublin Bus fares are significantly above average.
Naturally the rationale being given for the part-privatisation is to reduce or eliminate losses as well as reduce costs to the end user (though that's never been explicitly promised, it's always hinted at… "improved competition will bring benefits to the passenger" being a regularly trotted-out government soundbite). Fine Gael might relish a bit of union-busting but they're unlikely to be so dumb as to admit it in public, so it's all about the cost savings — to the state and to the passenger…
… the private sector will swoop in, reduce costs, reduce fares, improve (already excellent) services and make a profit for their shareholders. All at once.
Sure they will. Trouble is, that all hinges on that innocent phase… "reduce costs". How exactly are they going to achieve that? I'm assuming they'll be required to maintain the same safety and maintenance protocols as the existing routes. If not, I look forward to the criminal charges against everyone involved in this process. So there's probably not a huge amount of wriggle-room for cost reductions in terms of the fleet itself. I've not seen anyone claim that the privatised routes will see a significant increase in passenger numbers, and I'm sceptical of claims that "administrative savings and efficiencies" will generate nearly enough additional revenue to cover fare reductions and corporate profit.
So it's looking suspiciously like "staffing costs" will play a part in all this. After all, the Dublin Bus union is so strong that bus drivers earn a bloody fortune. Bloody ridiculous wages for someone who just drives a bus all day! If we slash those wages, we can reduce fares. Right? That's the implication anyway.
Except it's horseshit. Of the highest order. The average wage for a Dublin bus driver is €33,826 (source). This is more than 3 grand less than the average national wage (here) and they don't get the option of living anywhere other than the most expensive place in the country.
Nor are staff at Dublin Bus paid significantly more than their European counterparts (despite the constant implication that they are).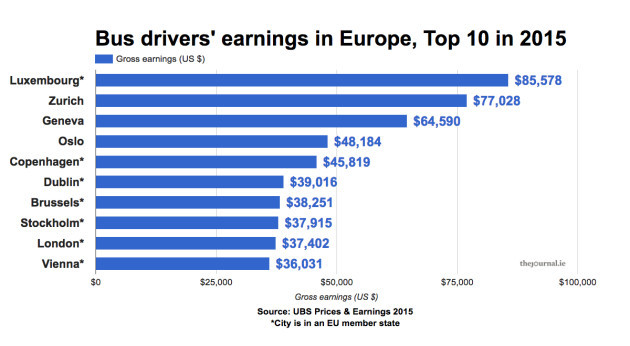 This chart appears in an article that concludes… "the average income of Dublin's bus drivers ranks a bit above Dublin and Ireland's cost of living rankings, but not by much."
Far from living in the lap of luxury, it seems bus drivers have a union that is just about keeping their members' heads above water. Which is a damn fine achievement in today's world and one I salute them for. Driving a city bus may be looked down upon by some in the commentariat, but it's a socially vital job, and it's actually a pretty shitty one at times (anyone ever seen the abuse bus drivers occasionally have to deal with on a Friday night after the pubs chuck out? Think you want to handle that crap for less than the average industrial wage? Really?) I, for one, am more than happy to see bus drivers get paid at least the industrial average wage. Not less than it.
And I can pretty much guarantee that the newly privatised routes won't be looking to exert upwards pressure on staff wages.
The solution is simple by the way. And it's not privatisation. The system is providing a good public service. So just increase the state subsidy to Dublin Bus. That's all. Put up my income tax by a half a cent if you have to. I earn more than a Dublin Bus driver. Sure, it probably took me longer to gain the necessary skills to do the job, so there's that… but I'd be deluded if I thought my job was more important to the social fabric of my city, or that my conditions of employment weren't much better.
Hell, bump my tax by a full cent and reduce fares while also cutting losses. People like me who use the bus will make the money back… the rest of you? Come join us!
* I don't doubt there are routes in the Dublin Bus network that are less reliable than others or always end up overcrowded. But from a passenger experience standpoint, on all of the routes I have taken regularly, I can't think of any metric that wouldn't put Dublin Bus near the top when compared with other networks of similar size. Aside from price, but I'll deal with that separately.